First of all, sorry for not having a yMusic review for awhile. NaNoWriMo has drawn from that.
Also, it seems that they'll be mostly on Sundays, but also on Saturdays if I can make that date.
Rihanna's album,
Unapologetic
, has a fitting cover. She's baring it, while covered in a graffiti wall of words. Yet, elements of brightness are held in the stark background.
The only hint to the album's tone is "Diamonds", which I mentioned in a post a month or two earlier.


The Video: Summary and Interpretation
I'll let one YouTube user summarize it for you:
What the hell does her damn finger nail, some horses, some police officers beating up burning people, a vase shattering and some roses on fire have to do with shining bright like a diamond?
Basically, it's a chockfold of imagery, but that doesn't mean that the end product isn't wonderful.


No "We Found Love"
This music video is a strange combination of both light and dark, or rather, death and rebirth.
Death and rebirth are the main motifs in this video
.
Death is represented by Rihanna drowning in an ocean, police chasing burning people, and burning roses. Rebirth is represented by the horses standing and galloping away, and a room reverting the destruction.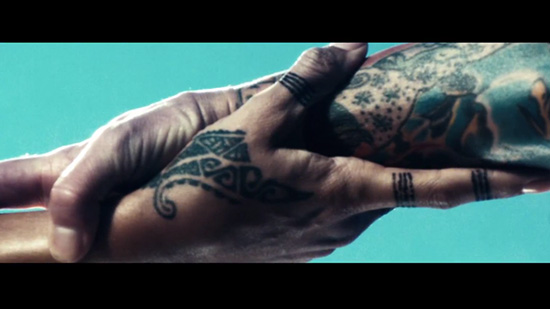 Interesting background.
But what's probably the most notable image in the entire videos are Rihanna holding a heavily tattooed hand--and letting it go. It's a blatant allusion to her relationship with Chris Brown.
Interesting enough,
the track listing on Wikipedia indicates
that he's one of the featured artist on "Nobody's Business", so who knows what part of the relationship they're in? Hopefully, they won't come back together and continue the cycle, and let's hope that title doesn't carry any implications.
Aurora
There's something striking about Rihanna's main shots
. For the majority of the video, she's seen in a black-and-white void. She's emotive, in a good way. Melodramatic, but it works. The work she did for the video is certainly going to be memorable. Maybe not in a completely mainstream way, but it's going to work.
Conclusion
I've preordered the album via Amazon, along with Lana Del Rey's upcoming mini-album Paradise. I should have both of them by the trip to Thanksgiving--around the time I've bought Rihanna's last album.
I hope Rihanna tops
Talk That Talk
.
I have high hopes.
YOUR TURN: What do you think of this music video and the song?
For more reviews on Rihanna, Nicki Minaj, and other artists,
read this page
.