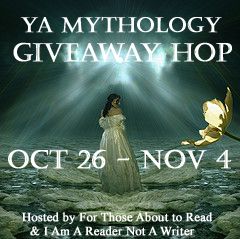 Remember all the times I promised more giveaways?
Your wish got granted
!
This time, it's a part of a larger scheme to
gain followers
spread YA love via a blog hop:
The YA Mythology Giveaway Hop
.
The lucky author?
Karen Amanda Hooper
.
The lucky ebook?
Tangled Tides
.
(Don't worry, Dogtown Weekly will be up in the morning.)
Why Tangled Tides?
First of all, this is a mythology hop, and
Tangled Tides
uses elements from Greek myths and legends. You know: mermaids, selkie, sirens and gorgons. Bet you don't know all four.
Second of all, this book charted on the Amazon Free Top 100 a while back. After reading it, I felt it deserved to trend like that, even if only for a couple of days.
Third, I have connections with Karen. Tell me you remember my review of
Grasping at Eternity.
The Actual Giveaway
Go ahead and fill out the form. Your odds are good, and it's worth taking a minute of your time to win an $5 ebook:
a Rafflecopter giveaway
Also, don't forget to check out the other participants in the hop!
YOUR TURN: Are you interested in this book? Why or why not? What other kinds of giveaways you want to see in the future?
WANT MORE GIVEAWAYS LIKE THIS?
Don't forget to sign up for email updates!