This week I got only a little progress with Manifestation Files done, but it at least is a little progress.
Manifestation Files
A public critique of the first chapter is up today
! Basically, I got it through a combination of luck and taking the intitive, both traits that work in your favor in anything.
Basically, Carol Riggs runs a blog called Artzicarol Ramblings. After reading
one of her posts
(which made the Weekly Round-up), I saw the sidebar and the call for first pages for public critiques.
I simply inquired on the matter. It turned out that the queue was empty. Zero people were waiting in line! She hadn't have any first pages to critique for at least for a couple of weeks. With me starting the revision process for my book, I jumped onto it.
Carol Riggs exceeded my expectations by more than a few notches. I expected her to take more of Janice Hardy's approache (who critiqued an earlier version of my first page a few months ago), and only provide advice within the post itself. However, Carol and I ended up exchanging e-mails about Manifestation Files. Not just the first page, but also some more general elements of the work. Her advice, as a whole, is useful and invogating.
Right now, I'm using her advice to revise my first chapter, and beyond.
School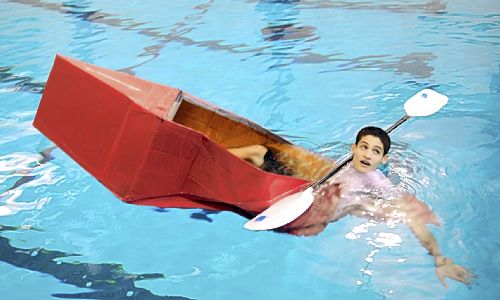 Something like this.
First of all, boat-building. It's an end-of-the-year project the grade always work on. Basically, for two days, all core subjects shut down so groups of four can use carbboard and lots of packing tape to craft boats within the classroom. Sure, there are schedule conflicts, but it simply results with the team rotating out.
It's a project that requires creativity, thinking, and ears that are willing to endure the sound of multiple rolls of packing tape being ripped for hours. I got used to the noise somewhere down the line.
Guess what we named our boat? The S.S. Tardis. A couple of us are in the Doctor Who Club.
In the afternoon, we took the boats to the pool to race them in the water. There were two ways the boats sank:
Water leaks into the boat, filling it and causing the weight of it to crumble the boat and sink downwards.
The boat tilts due to an imbalance, and the above happens.
Fortunately, my team's boat survived. Check DeviantART tomorrow for another photo.
Music Video and Book Competition:
The subject of the subject video, it's almost finished. One problem I encountered was that I missed an entire class period when I went with a team to this book trivia competition. We were the reigning campipns. We didn't win, however. But at least we came home with a minor door prize. And got to eat some Fro-Yo.
Remembering facts from books, especially the spefific facts, can be nerve-wrecking, but thrilling.
But back on the subject of the music video, since that's the thing I had been rambling about for weeks. I got another day of filming in the last seven days. I took all three actors into the hallway to film the second half of the video. I encountered a couple of problems:
People keep passing between the camera and actors, even though it was during classes. I remedied this by adjusting one of my planned angles.
The actors felt a little wierded out by the actions they had to do. It's only ankle-pulling, people! I can have you guys hug if I want to, but ankle-pulling is nothing! It doesn't stop one of my friends snarking about whatever I'm filming a music video or ghost porn.
Heh, ghost porn.
On the bright side, I finished filming today. I'm using tomorrow to do all of the editing during lunch and the period after. Hopefully, there will be time to put in the mandatory bloopers.
----
P.S.
Oh, and I actually forgot about this while typing this! It was my birthday Saturday. Guess how many books and Barnes and Nobles gift cards I got?
And the blog hop
? We had six people total. Not a large number, but it could have been worse. Next time, I'll be more organized and get the word out and reap a larger benefit from it all.